For this year we had 15 display place allocated.  Unfortunately Mike Garafillis R12 Gordini did not make it on the day.  We had many people interested in our cars, particularly the Alpines A110 and A310, and in the Renault 750.
It cost each person $30.00 to display their car. In return they received 2 X 4 day general admission passes to the event. In addition, each person goes into a draw for a  number of Pit Lane walks.  Two from our club were lucky enough to win.  We believe we were the only club with multiple winners.
There was also on display at the event, a Dauphine that held set a land speed record last year at Bonneville at 123 kph.  This stunned may of us as it has a larger motor than a standard Dauphine which we thought would have been able to do that speed easily.
Some of our members took a very relaxed approach to the day.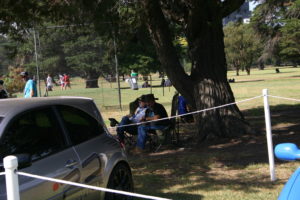 CAMS gave us a write up on their website too: See the rare Renault Gordini at the Australian Grand Prix