The Good Folk* of Gisborne came out to welcome the cavalcade of Renaults as the club came to town for market day.  RCCV members and friends spent a nice part of the morning of May 7th having a wander through the 250+ stalls on the social drive day.  The Gisborne market is great and not just because it is part of GREAT – Gisborne Region Events, Activities and Tourism. The market connoisseurs among us pronounced it 'one of the great markets' and 'well worth going to the far / near (delete as appropriate) side of Melbourne to get to'.
* Jackie and Charlie Stewart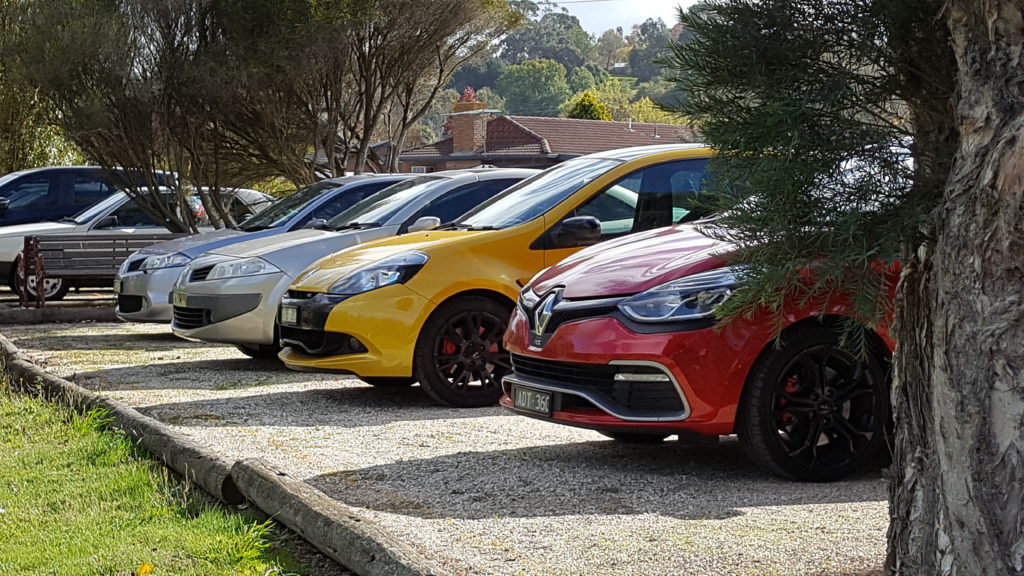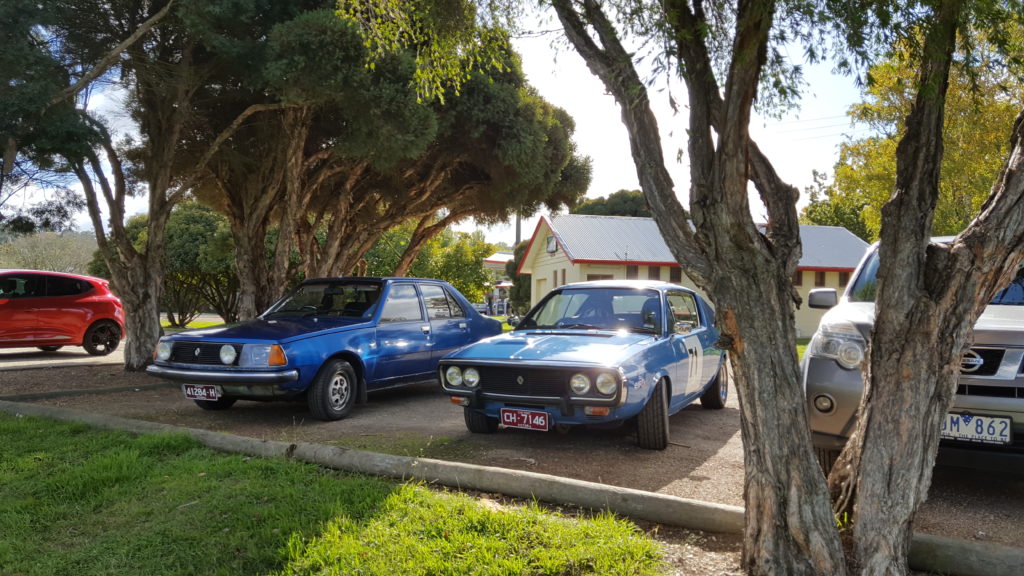 Having had our fill of the market and coffee from the fine coffee dispensing places, Paul led us off to Lancefield for lunch. 15 Renaults might have tripled the car population of Lancefield but it didn't stop the pub serving up some very classy nosh.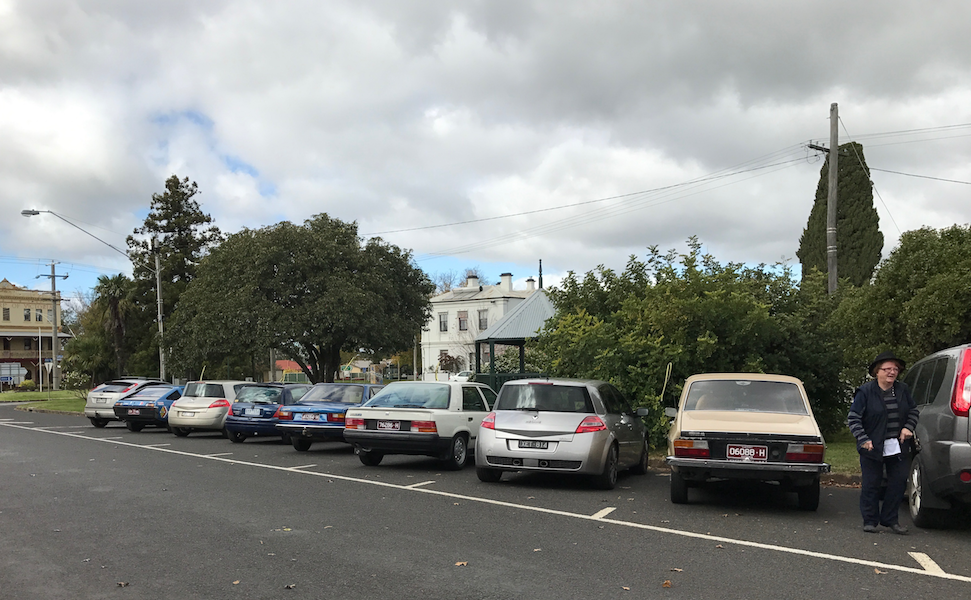 An iconic vehicle – one of the few remaining factory R8 Gordinis – had made its way into the hands of club member Dave Cavanagh recently and he queried the lunch crowd if we'd like to check it out. An offer we couldn't refuse so it was off to Romsey we went to check out Dave's new project, and his others while we were at it.
That R8 is certainly a great get, but I have to say his Dacia 4-wheel drive utility is too. What a very strange sight: the front of an R12 and the back of a very different creature indeed! I don't know when Dave's going to find time to restore the R8 but I'm looking forward to it.
It must have been a strange experience for Dave's place – more going Renaults in attendance at one time than non-going ones!  And if you look closely at the picture, centre just above Ken's shoulder, you can see a signature piece of garden art – Dave's father's 750.
A strange artifact of the panorama shot – one of the Knights Who Say Ni snuck in.
The next leg of the drive promised to be exciting with some hilly twisty bits of road heading up to Mt Macedon Memorial Cross. After brief regroup while Paul let the feistier members (you know who you are) go first, it was into the fun bit – but just for a bit. Nothing like a slow FORD to suck all the joy out of a good skein of road.
And good it was. I can't recall the last time I saw a hairpin with a mere 10kph advisory and I've been around Tassie recently.  Paul did what he could, allowing a gap to build and then having a bit of a run but the Ford was just too damn slow.  I did get to hear the sweet note of his R17 Gordini off and on though.
Anyway, we gets to the top to find it absolutely ram packed tight with other folk up there. Even the overflow carpark overflowed! Clearly we weren't the only ones to think Macedon in Autumn would be a sight to see.  Didn't stop us from enjoying a coffee and the spectacular view.
A run down the hill through Macedon via the autumn leaves of the spectacular Avenue of Honour and it was off home after another enjoyable RCCV drive day. Our thanks to Paul Stewart for organising the run.