Twenty intrepid members braved the cold and rain at Bunnings Keysborough as we met up for April's drive day. Fortunately the skies cleared as we headed south down the Mornington Peninsula.
Taking the roads less travelled, our first stop was the village of Mt Eliza for coffee at the Cafe on the Mount. It constantly surprises me how you can live around Melbourne for most of your life and still find yourself standing in delightful little corners that you  never knew about. I mean, I knew about Mt Eliza, just not how sweet the 'village' is.
More roads less travelled saw us wend our way down past Balnarring and Shoreham to Flinders where clear skies and a chill wind awaited us.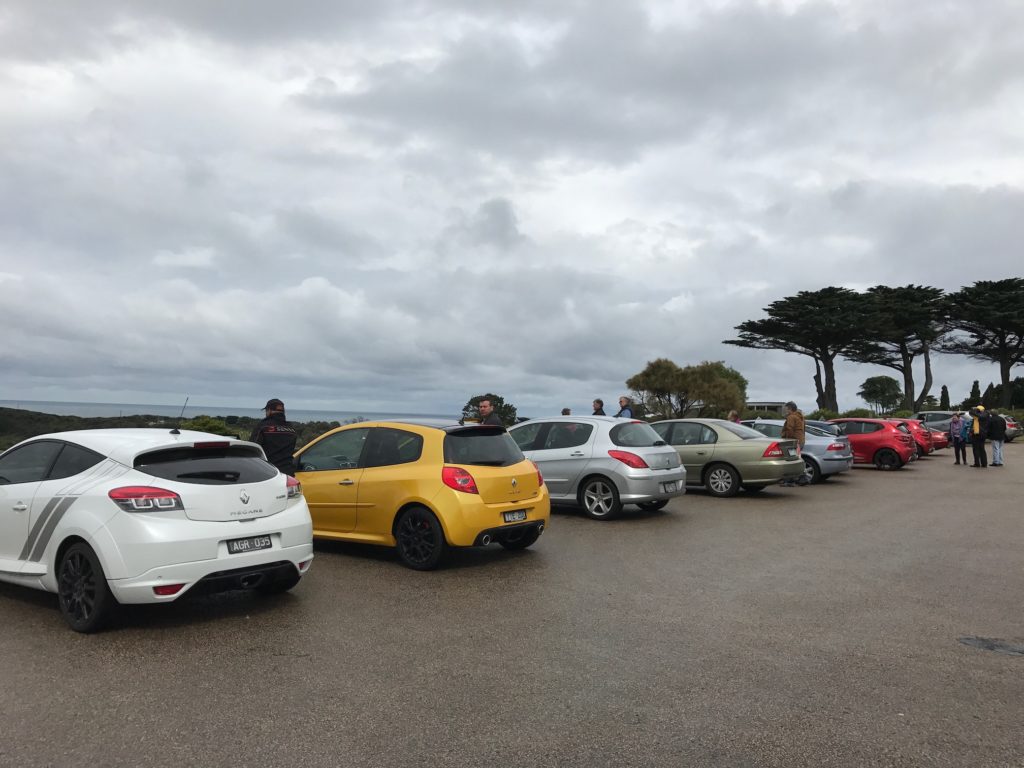 See, even on an overcast day a line of Renaults is a pretty site. And in case you were try to figure out what model Renault the fourth from left is you can stop. It's not one, it's an interloper from another marque trying to bask in our glory as we enjoy the view from above Flinders.
Back into the cars before we froze and up the spine of the peninsular to to Arthurs Seat.  That new chair lift looks pretty swish but unfortunately we didn't have time on the day for a ride as lunch awaited us at Dee's Kitchen in Dromana.
We took the Arthurs Seat Road down to Dromana of course. Now there's a fun road, spoiled a little by having to be responsible and obey the speed limits and watching out for other traffic!  Would be a fine spot for a hill-climb event!
Dee's Kitchen was a lovely pick by run organiser Mike – one of those modest little eateries with really great food and good friendly service. And not your standard menu, Dee was clearly charting her own course, and with some considerable success.
After lunch it was back to wending, this time for our way home after another enjoyable club drive day.